Little Hands Nursery School – Newton provides quality preschool care and education for children aged two and over.
The setting occupies one ground floor wing of Newton Hall, a Queen Anne style Country House situated in its own grounds in Newton, one of the smallest villages in South Cambridgeshire.
Ideally situated for Cambridge the Nursery School, the subject of an extensive redecoration programme during 2014 gives us :
A light, bright and airy main room with direct access to the fully equipped, totally enclosed and imaginatively landscaped inside /outside play area which itself has access to the landscaped gardens and grounds of Newton Hall where supervised nature walks and rambles take place.
A self contained pre-school room and a quiet room all of which allow various activities with small groups of children to run concurrently; quiet and busy, supervised and imaginative.
Some quotes from parents of children at Little Hands Newton :
'You all do an amazing job! Thank you for making the nursery such fun whilst always making sure she felt safe and secure.'
'He has had a great start to life through you and for that we are very lucky.'
'It has been a memorable two years and we can't thank you enough for your love abnd care.'
'Thank you for the hard work and care you put into looking after him, but also making it so much fun.'
'We are so grateful for all your hard work, creativity and patience which go together to make such a special nursery.'
'We can't believe his time at Little Hands is over and he's heading off to school. We want to give you a huge and heartfelt thank you for all the ways you've cared for and nurtured him over the past year. We can't speak highly enough of what you do and we're very grateful giving him such a great time at Little hands, he's loved it.'
'She has developed into a loving, confident girl and we thank you for playing such a huge part in her development. She has thoroughly enjoyed her time at Little hands and all the friends that she has made through her time here and all will be dearly missed.'

For details of the Nursery Schools' opening hours and term times etc, please visit the "online information" section of the website.
---
To see a full sized location map for the Nursery please click image below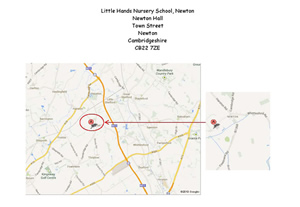 CLICK HERE AUTUMN NEWSLETTER 2023

CLICK HERE FOR BOOKING FORM 2019 - 2020
The Booking Information booklet contains all the information and guidance you need to help you plan and book sessions for your child at Little Hands

BOOKING INFORMATION - NEWTON 2022-23

INFORMATION - BOOK

EYFS SUMMARY DOCUMENT

THE LH GUIDE TO A HEALTHY LUNCHBOX